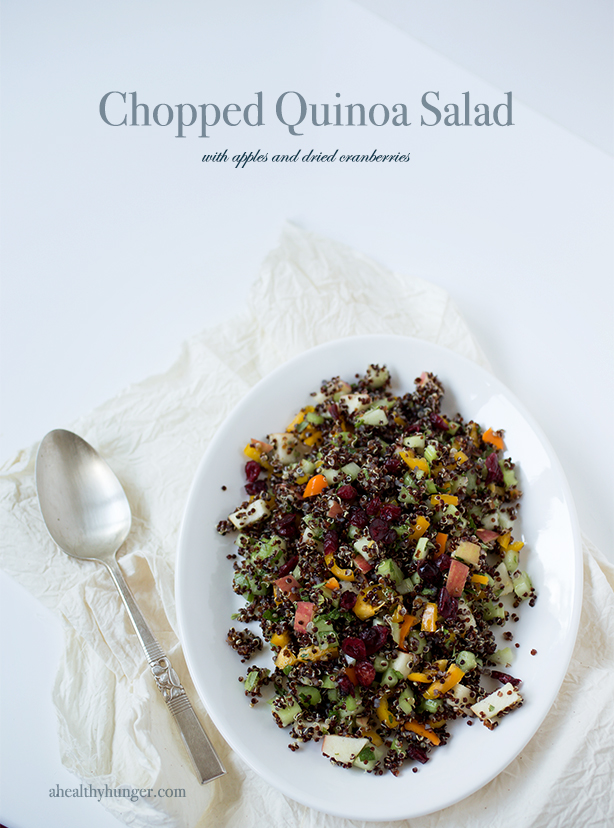 Looking for something fresh to put into your lunch box? Try this power packed Quinoa Chopped Salad.
Around here I make up a batch or two of grain based loaded cold salads each week. Making it easy to reach into the fridge and grab a healthy snack at any time. By adding a few key ingredients a salad can become a powerhouse meal.
Quinoa is an ancient grain that is a powerhouse of protein, antioxidants and fiber. It takes to dressing beautifully and holds up well as a salad, and it quicker cooking that most whole grains. Adding in a chopped apple and dried cranberries is a good way to get some fruit into your diet while brightening up a savory dish.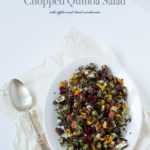 Quinoa Chopped Salad
2014-02-12 06:08:10
Serves 4
A loaded salad that has crunch and heartiness.
Nutrition Facts
Amount Per Serving
* Percent Daily Values are based on a 2,000 calorie diet. Your Daily Values may be higher or lower depending on your calorie needs.
Ingredients
1 cup cooked quinoa
1/2 cup cucumber, diced
2 celery stalks, chopped
1 yellow pepper, chopped
1 granny smith apple, chopped
1/2 cup dried cranberries
1/4 cup mint, chopped
1 clove garlic, finely minced
3 tablespoons fresh lemon juice
1 tablespoon fruity olive oil
1 teaspoon honey
1/2 teaspoon salt
1/4 teaspoon freshly ground pepper
Instructions
In a large bowl add the quinoa, cucumber, celery, pepper, apple and mint and toss. In a small bowl combine the garlic, lemon, oil, honey, salt and pepper, whisk smooth. Pour the dressing over the quinoa and toss.
Notes
The salad keeps very well in the fridge for a few days.
A Healthy Hunger http://ahealthyhunger.com/