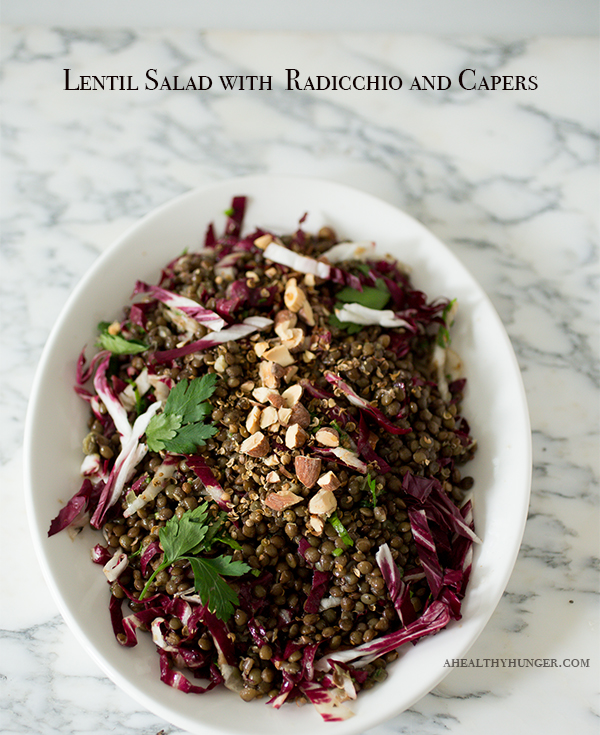 I love the holidays, but all the celebrating can make one "hungover" from all the indulgences. I live most of my life in a wholesome way, but I do enjoy the treats of the season. To me this is what living a life in balance is about. I never want any of my clients to think that they must abandon all the things they enjoy. What I do like to promote is a healthy balance of all things. Food means so many things to all of us. It represents comfort and love and emotional nourishing. To think of food as only it's nutritional components is missing out on the joy and pleasure of food (and eating). I often get into discussions about "evil" foods and I hear many people pontificate about the things that are MUSTS to avoid (I'm talking about you gluten and high fructose corn syrup). There is no doubt that there are some food substances well best on the shelf, however, it dismays me to think about all this negativity, angst and hatred. I would much rather look at the joys of food, and they way clean eating makes you feel.
So many look to start the New Year off with a wholesome approach. For that I say BRAVA! and I am here to help. It is my extreme joy and passion to create and pull together recipes that are nutritious and delicious. More importantly, my mission it to make you love the food you are eating and show you how to incorporate healthy food into your daily life. The good news? You don't have to be a BoHo nymph to be healthy, nor do you have to embrace gloppy juices or obscure ingredients. Over the next few weeks look for some free downloads to guide you through these initial transitions. ( If you sign up for the mailing list they will be sent directly to you) Or check out our weekly
menu plans
that are just amazing. (This week for example is Chicken Quinoa Stew, Baked Falafel, and Cioppino for New Years Eve dinner). In the meantime, please enjoy this gorgeous lentil salad. In some cultures lentils are eaten on New Years for luck. The shape of the lentil resembles a coin and when they are cooked they swell, insinuating growth and money expansion. I say the nutritional power of lentils absolutely makes them "money". Happy New Year! It's been a great year and all of you have touched my heart with your support and your desire for a healthier life. Here's to YOU!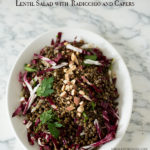 Radicchio Lentil Salad with Capers
2014-12-30 10:06:13
Serves 6
Nutrition Facts
Amount Per Serving
* Percent Daily Values are based on a 2,000 calorie diet. Your Daily Values may be higher or lower depending on your calorie needs.
Ingredients
1 cup french du puy lentils
3 cups water
3 tablespoons white wine vinegar
4 tablespoon extra virgin olive oil
1 teaspoon coriander seeds, crushed, or 1/4 teaspoon powder
1 clove garlic, finely minced
3 tablespoon capers, drained
1/2 cup roasted chopped almonds
1 small head radicchio, shredded
1/2 cup chopped parsley
Instructions
In a medium saucepan bring the water to a boil and add a pinch of salt. Rinse the lentils in a sieve, then add to the saucepan. Reduce heat to a simmer and cook until the lentils are tender and most of the water is absorbed, about 35 minutes. Taste for doneness. They should be firm but not hard. Add more water if necessary and continue to cook, testing every 3-5 minutes. Drain any remaining liquid, and set aside to cool as you prepare the rest of the salad.
In a medium bowl combine the vinegar, coriander seeds, garlic, capers and oil. Whisk smooth. Add the warm lentils and toss. Then add the radicchio, almonds and parsley. Toss together and serve.
A Healthy Hunger http://ahealthyhunger.com/