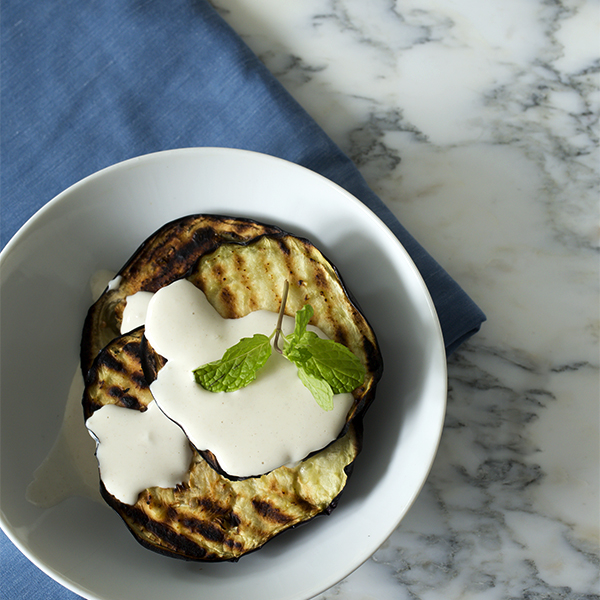 One of the best parts of traveling is gathering with others around tables and eating delicious food. On my recent trip to NYC I had dinner with my eldest daughter at a small restaurant in the East Village. We sat in a dark restaurant after walking the frigid sidewalks of the city and snugged in with bourbon and this simple dish.
I am a huge fan of eggplant, and my daughter, a vegetarian for years, is likewise an addict too. I will say that I am not always satisfied with the preparation. I think the trick to good eggplant is to create a creamy interior without over saturation of oil, and flesh with little bitterness. I have worked on my method and have been able to produce a non-oily lovely dish that I will happily share with you.
Facts About Eggplant
Known by several names, including melongene and my favorite, aubergine- the eggplant is a member of the nightshade family. It is most often grown with a regal purple skin but you may also find varieties in white, variegated purple/white, variegated green/white, yellow and red. The shape may be a pear shaped eggish globe, a long thin shape or a round orb. All equally delicious.
Eggplants are a good source of dietary fiber, yielding 10% of your daily needs in a 1 cup serving. They are also a good source of the phytoutrient nusanin, some trace minerals and has a low GI. Some heart studies have been able to show a reduced level of serum cholesterol and improved vascular health after consuming eggplant, but at this point I cannot solidly support that claim. This will be something to keep an eye on for the future, for sure.
How to Shop For and Cook Eggplant
When shopping for eggplants you should choose one that is heavy for it's size and free of brown spots, bruises or serious dents. The flesh is relatively tender, so take care not to mash it into your vegetable bin and damage it. Opt to keep it on a shelf instead. Also, do not store eggplant in the coldest part of the fridge and remove it from any plastic wrapping if necessary. If stored well the eggplant should last 2-3 days in your fridge.
There are several methods of cooking eggplant from roasting, stewing, steaming, frying or grilling.
When cooked the flesh has a complex umami taste making it a pleasant alternate to meat in some dishes, (Think eggplant parmesan). I just love the smokiness of eggplant but the flesh can sometimes have a bitter edge. To combat this I slice my rounds about a half hour before cooking and lay them on a baking sheet. I then sprinkle them generously with salt. This draws out the bitter juices over that 30 minute resting time. I then give them a quick rinse and a quick pat dry. You might think the rinsing would make them soggy, but in fact, it does not.
Eggplant is often paired with tomato based sauces, or in this case, a tahini and garlic sauce. As I said earlier, one of my peeves about eggplant is it is often drenched in oil. This is mostly due to the fact that the flesh acts like a sponge so care must be taken if you plan to fry them. I prefer to brush them with a thin layer of oil and grill them gently over a low heat. The heat steams the inside, creating a tender flesh, while the outside gets a nice char.
Though the skin is edible not everyone enjoys it. Some varieties have thicker skins than others. I happen to like the skin when it's served on hearty slices such as these. If you're not a fan simply cut the skins away.
The Final Word
We often have a tendency to rotate amongst the same vegetables all the time. If you're not in the habit of eating eggplant I invite you to give it a try. You can serve this dish alongside some grilled fish or chicken and you'll be glad you did.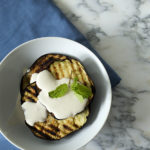 Grilled Eggplant with Yogurt Tahini Sauce
2015-03-12 14:29:31
Serves 4
Serve as an appetizer or side to grilled meats. The prep time includes resting time to remove the bitterness.
Nutrition Facts
Amount Per Serving
* Percent Daily Values are based on a 2,000 calorie diet. Your Daily Values may be higher or lower depending on your calorie needs.
Ingredients
2 large eggplants, sliced into 3/4" rounds, approximately 12 slices
1 tablespoon olive oil
1/3 cup tahini
1/2 cup Nonfat Greek yogurt
1 clove garlic, finely minced
1 lemon, juiced
1/2 cup water
salt and pepper
Instructions
Arrange the eggplant slices on a clean baking sheet and sprinkle each side with salt. Let stand for 30 minutes. You will see beads of dark liquid on the outside start to form. Rinse these off gently under running water and pat dry.
Brush each round with some olive oil and warm grill or grill pan over a medium/low heat. Gently grill the rounds until they are tender and remove to a platter and sprinkle lightly with salt.
Meanwhile: In a small mixing bowl combine the tahini, garlic, yogurt, lemon juice and enough water to create a dressing consistency. Season with salt and pepper to taste.
Serve by first placing a layer of sauce on the plate, then stack 3 rounds and top with the remaining sauce. Garnish with mint if you desire.
A Healthy Hunger http://ahealthyhunger.com/
Another Eggplant recipe for your enjoyment:
Asian Inspired Eggplant.