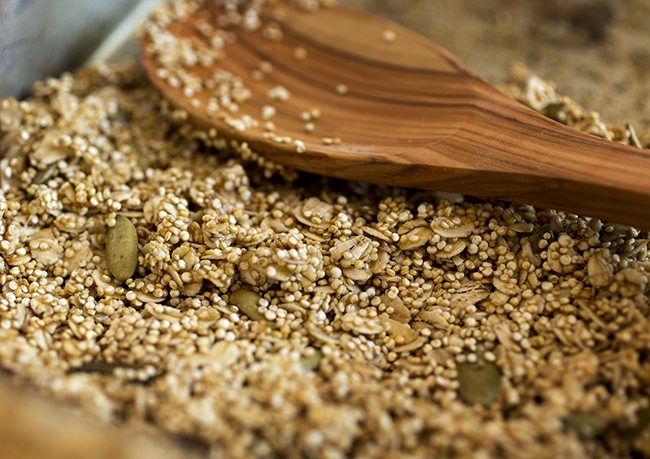 Looking for a better breakfast? This Crunchy Quinoa Granola is loaded with protein and fiber and moderate on the sugar. When I was a kid it was only hippies that ate granola. It was that groovy food that lived in mason jars in junk food free pantries. Earth mothers in peasant skirts with long hair down their backs made this concoction, and with Mona Lisa smiles, sprinkled these grains into bowls for their children's breakfast.
When I was a kid it was only hippies that ate granola.
Click To Tweet
Granola has evolved over the years. It's still considered a health food, but it has hit the main stream. A lot of the commercial cereal companies have some version or two, which from my observation, are pretty far cries from the wholesome goodness of the old days, namely much too sweet.
Granola, commercial or otherwise, is a very calorie dense food that can be loaded with sugars and fat making it a
not so healthy health food
. It's one of those foods that can make a nutritionist take a sharp breath. Some granolas can top over 600 calories for a cup, and it's easy to get heavy handed with something so yummy. For most people, when pouring out a portion of cereal into a bowl, the eyeball calculation is way off. A typical pour is over 2 cups. This can be a real pitfall when trying to watch your weight. One of the benefits of making your own is some control over the quantity and quality of the ingredients. It's super easy to make, and can be a simple addition to your batch cooking day.
This quinoa granola is also blessed with a nice dose of plant protein, which makes it a great compliment to your smoothie bowl. The toasted quinoa is super nutty tasting, and it gives this recipe that awesome crunchiness. I also like that this version is not overly sweet, but just sweet enough. For those who are carb phobic, these are some of the carbs you want. Wholesome, fiberous, and full of nutrition.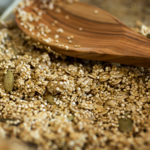 Crunchy Quinoa Granola
2016-03-11 09:29:00
Serves 12
Nutrition Facts
Amount Per Serving
* Percent Daily Values are based on a 2,000 calorie diet. Your Daily Values may be higher or lower depending on your calorie needs.
Ingredients
1 1/2 cups quinoa, uncooked
1 1/2 cup quick oats
1/2 cup pepitas
1/2 teaspoon cinnamon
1/4 cup maple syrup
2 tablespoons vegetable oil
2 teaspoons salt
Instructions
Preheat oven to 350 degrees and prepare a baking sheet with cooking spray.
Combine all the ingredients in a bowl and stir thoroughly to completely cover all the bits and create some stickiness.
Dump the granola onto your baking sheet and with the back of a spoon or spatula, press down into a tight even layer. The compression makes for nice chunks, which I personally really love.
Place in your oven on the middle rack and bake for approximately 20 minutes. Keep an eye that the oats toast but do not blacken.
When done, remove and allow to cool, then break up and store in an airtight container.
Notes
Remember, a serving is a 3 tablespoons!
Adapted from Donna Hay
Adapted from Donna Hay
A Healthy Hunger http://ahealthyhunger.com/