I'm always looking for innovative ways to eat my veggies, and the simpler the better. I adapted this warm carrot salad recipe from Gwenyth Paltrow's fantastic cookbook: It's All Good
. I absolutely adore Gwenyth and Julia Turshen's approach to healthy simple and delicious foods, which is right in line with my philosophy here at A Healthy Hunger.
To make a good thing even better, I used pre shredded carrots from the market, the ones I usually toss into my salad bowl. It took mere minutes to turn that boring bag of carrots into this warm, heavenly scented and delicious salad.
Carrots are packed with Beta-carotene, which your body converts to Vitamin A- a powerful antioxidant. A diet that has sufficient vitamin A has shown to keep cancers, such as lung cancer, leukemia, prostate cancer, and colorectal cancer, at bay. Seniors who consume adequate levels of dietary vitamin A also have shown to have 40% less macular degeneration- one of the larger causes of blindness in advance age.
You may eat your carrots cooked or raw. Cooking carrots does make the beta-carotene more available, and therefore more absorbable, especially when combined with fats. The light steaming in this recipe is perfect, bringing out the natural sweetness in the carrots while still maintaining a bit of crunch.
You can find more recipes like this one each week on our menus.
I hope you enjoy it!
Here is a resource for purchasing some of the ingredients needed in the recipe. If you click and purchase any of these I will get a small bonus, which I gratefully funnel back into supporting the costs of the blog.
Ginger Paste
– Purchase in a tube. Kept in the fridge it will last weeks.
Black Sesame Seeds
– You'll love the striking color. Add to muffins and other baked good too.
Hot Sesame Oil
– You may also use this oil to finish off a soup, or regular salad when you want a little kick
It's All Good, by Gwenyth Paltrow
– This is a beautiful book that should be on everyone's shelf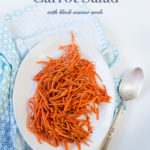 Warm Carrot Salad with Black Sesame Seeds
2014-02-19 05:53:00
Serves 6
Just lightly cook the carrots to maintain a slight crunch. Heating the carrots makes the vitamin A more available and brings out the sweetness.
Nutrition Facts
Amount Per Serving
* Percent Daily Values are based on a 2,000 calorie diet. Your Daily Values may be higher or lower depending on your calorie needs.
Ingredients
1 tablespoon olive oil
2 teaspoons ginger paste
4 cups shredded carrots
1 teaspoon coarse salt
1 tablespoon spicy sesame oil
1 teaspoon soy sauce
1 tablespoon black sesame seeds
Instructions
Warm the oil in a large sauté pan and add the ginger. Cook for 30 seconds to infuse the oil with the ginger. Add the carrots, toss to coat, then add 4 tablespoon of water and cover with a lid. Steam the carrots for 2 minutes, then remove the lid and allow the water to cook off, then remove from the heat. Add the hot sesame oil, soy sauce and sesame seeds, toss and serve.
Notes
May be refrigerated and eaten cold or at room temperature.
See blog post for resources for the ginger, black sesame seeds and the book.
Adapted from It's All Good~ Gwenyth Paltrow
Adapted from It's All Good~ Gwenyth Paltrow
A Healthy Hunger http://ahealthyhunger.com/