Welcome to the first of my new series: Veggie Inspiration. As part of my mission to get you excited about eating more fruits and veggies. You can expect each Monday to find a new vegetable creation that I hope will inspire you. Some will be dramatic like this one (though super easy to make) and other will be more to the basic side. Hang with me, I've got something for everyone. There is a lot of talk about detoxing this time of year. After polluting our bodies over the holidays it feels like the penance one should pay. I beg you not to do any extreme detoxing plans, especially if you are a diabetic or otherwise health compromised. Instead I invite you to give your body assistance in what it does so well on its own. Eating more vegetables is such a double positive wammy for your body.
Double Good vs Double Bad
I don't need to tell you that vegetables are vitamin and fiber packed- but let's talk about inflammation for a sec. The concept of inflammation is a popular one lately and I am fully behind it. When we eat highly processed foods, for example, we are not only aggravating our digestive system, but we're also missing out on an important opportunity to dose ourselves with vital nutrients. Double Bad. Now why is this important? Because though we can fuel ourselves on junk, we gunk up our systems and deplete our working engines with every mouthful. You may think that a multivitamin should cover you, but I hate to tell you, there is more and more
research
that suggests that vitamins are counter-beneficial. Within our bodies vitamins are delicate and complex elements which work best in certain dynamics- and don't you know- that dynamic most often occurs naturally in fresh foods. In the case of beets, you get an added dose of antioxidants too. So what does this mean? Vegetables- a double positive, and all you need for reducing inflammation and detoxing. Boom! Just like that. Besides, isn't a juicy orange far more exciting than a pill? Seriously! The smell alone!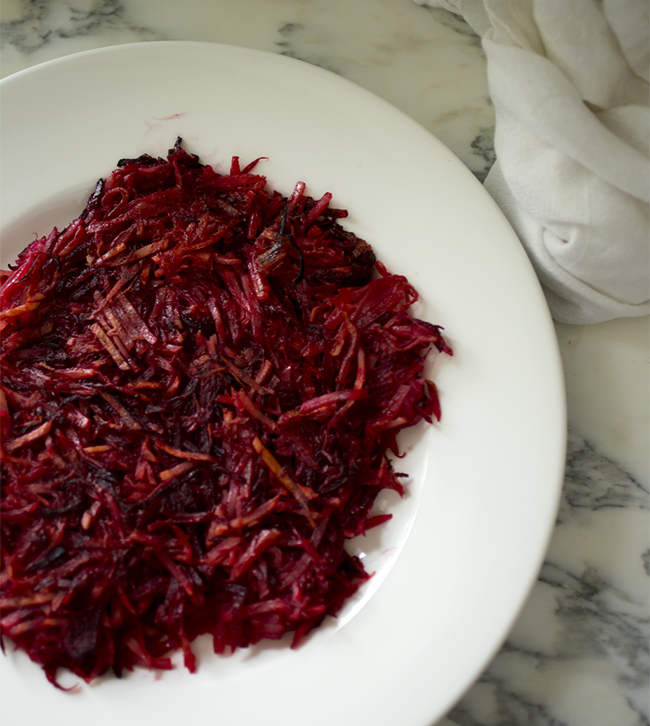 Beet Benefits
I have to admit that I am a fairly recent convert to beets. My mom used to eat them out of a can when I was a kid. I just did NOT find that appealing. I came to adore roasted beets with goat cheese (and often my snack), but raw or gently cooked beets gave me pause. I'm not sure why because beets may have a slight earthy taste, they are really pretty neutral, and when prepared fresh are juicy and tender. The color alone is enough to fall in love in my book. That deep red color is a rich antioxidant called betalain, which is considered to be beneficial to nerve and eye health. Beets are also rich in vitamin C, fiber, and very high in folate. At only 75 calories per cup there is a lot of nutrient bang for your buck. Fear not the stain. Beet juice is a natural coloring, and it will not permanently stain. If your hands end up a little pinkish, simply rub with lemon juice to neutralize. Personally it doesn't bother me unless I need to be presentable in the company of others.
Preparing the Potato Beet Cake
The procedure for making this cake could not be easier. After peeling both the beet and potato I used a cheap japanese mandoline to grate the flesh. If you're looking for a source you can find my favorite
Here
on our shop page. It's an inexpensive and extremely useful tool to have around. Alternatively you may use a box grater or the grating jiggy on your food processor. Personally I don't enjoy washing all those potato shards that have a tendency to stick to every tiny crevasse of my processor bowl. The mandoline is much less clean up. I will also admit that I would not recommend making a big ol' large cake like this. I happen to be a whiz at flipping and turning hot things (a skill from my many years as a wedding cake baker), but it's not fun wielding so big. This recipe works just as well making smaller cakes in say a 6″ pan, or even pancakes, which are super easy and super cute. Pair your Potato Beet Cake with roasted meats of any kind. I made a simple goat cheese sauce, but it's yummy on it's own with some finishing salt. Leftovers are also divine reheated with an egg for breakfast- hooo yeah!
Crispy Potato Beet Root Cake
2016-01-07 16:22:02
Serves 6
Nutrition Facts
Amount Per Serving
* Percent Daily Values are based on a 2,000 calorie diet. Your Daily Values may be higher or lower depending on your calorie needs.
Ingredients
1lb russet potato
1 lb raw beets, without greens
2t salt
2 Tablespoons butter
For goat cheese sauce
2oz soft goat cheese
3 Tablespoons milk, or to taste
salt and pepper
Instructions
Peel and grate potato and place into a large bowl, toss with salt.
Peel and grate beet and add to potato bowl. Gently toss together until thoroughly combined.
In a 10" nonstick pan melt 1 Tablespoon of the butter over medium heat. Add the mixture and pat into a compact and uniform circle.
Cover the pan for 4 minutes, then remove lid and test the bottom for doneness by lifting edge with a spatula. When nice and toasty, about 12 minutes, run a spatula around bottom to assure it is loose from the pan. Place a large plate or baking sheet on top and flip the pan.
Melt the remaining tablespoon of butter in the skillet and slide the cake back in and cook for an additional 8 minutes until toasty on the bottom.
Meanwhile, if serving, place the goat cheese and milk into a small bowl and blend into a smooth sauce. Add more milk if needed to achieve a consistence you prefer. Season with salt and pepper.
When the cake is done, Slide it onto a plate for serving. Cut it into wedges and serve with the sauce.
A Healthy Hunger http://ahealthyhunger.com/