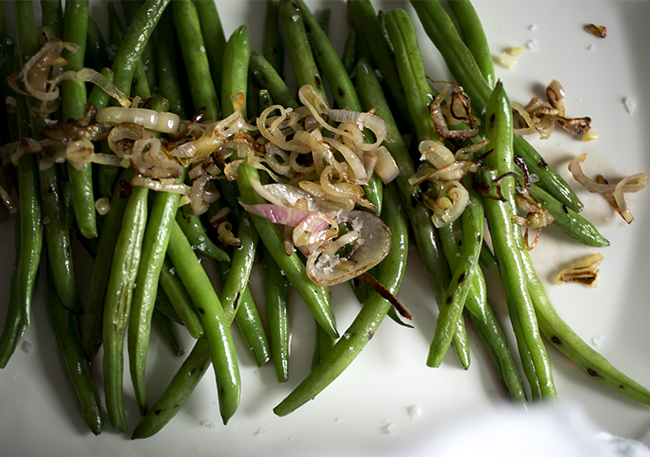 There are many ways to prepare string beans, from the steaming basket to the classic casserole. When it comes to preserving freshness and color, blistering string beans is, to me, the best method. When I was a kid my mom would prepare us beans from a can. They were an ashen grey/green color, loaded with salt and the consistency of mush. To say the least I did not enjoy them. (To make them palatable I learned to blend them into the mashed potatoes just so I could get them down, was I alone in this?). Then one day I was served a
Nicoise Salad
with gorgeous bright green haricots verts- the slim petite (oh so French-like) green bean, that was so bright and full of flavor it was a revelation! To blister the beans you simply need a supremely hot skillet or grill pan. I used my new best friend in the kitchen, my cast iron frying pan. My method is to sautee the shallots first so they are golden and crispy, then pull them out and set aside for just one minute. Then crank up the heat a tad, then toss in the beans. You need to let them just sit for a few minutes to get a good sear on one side. Don't rush, tend to another aspect of your meal as they do their work, (or set to tossing out those cans in the cupboard should you have any). Then a toss or two for another 2-3 minutes and you are there. Add the shallots back into the pan with another splash of olive oil and a fine dose of vinegar and warm it all back up, then disperse over the beans. Simple, bright and heavenly. Pair these up with any meats, and think about making an extra batch for your salad bowl!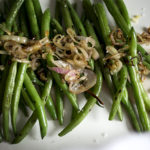 Blistered Beans with Vinegary Shallots
2016-01-25 06:18:35
Serves 4
See notes on how to make faster work of trimming your beans
Nutrition Facts
Amount Per Serving
* Percent Daily Values are based on a 2,000 calorie diet. Your Daily Values may be higher or lower depending on your calorie needs.
Ingredients
1 lb string beans (or haricots verts if you prefer)
1 clove garlic
2 med shallots
2T olive oil
2 tablespoons good quality red wine vinegar
salt and pepper
Instructions
Trim and was the beans and set aside.
Mince the garlic and slice the shallots into rings.
Warm a sautee pan over medium heat, add 1 tablespoon of olive oil. Add the garlic and shallots and gently sautee until they are golden and brown, but not scorched. Scorching garlic will make it bitter and unpleasant. Remove this to a serving dish and set aside.
Return the pan to the stove and increase the heat to medium high. Add the remaining tablespoon of olive oil and when the oil is hot, add the beans.
Allow the beans to sit tight on the heat without disturbance for a few minutes to get a char on them, about 3 mins. Then toss them and turn them to get a char on the other side for 2 minutes. Remove them to a serving platter. Add the shallots back to the pan and splash with the vinegar and salt and pepper. Warm through, just for 30 seconds. Then pour the gorgeous glistening shallots over the beans and enjoy!
Notes
To make quick work of trimming beans, grab a small handful, about 10 beans or so, and line them on your cutting board in a row North to South. Place your hand on them so they don't roll, then using the edge of your knife, tap them on the end to align the ends. Then with one quick swipe, chop off the tops. Voila!
You may prepare frozen beans this way as well if that is all you have on hand, it tastes just as wonderful.
A Healthy Hunger http://ahealthyhunger.com/