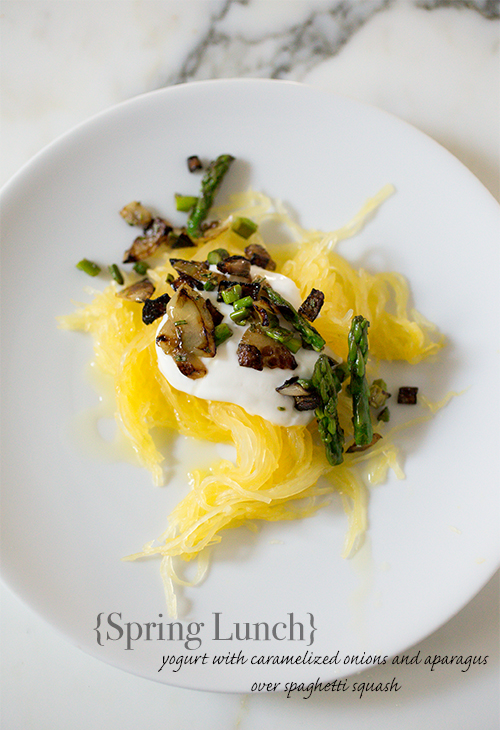 Happy Spring!!! It's officially here. I wish with all my heart that you are thawing out nicely, and the longer days are adding a little lift in your step.
There is much happening here as A Healthy Hunger expands and grows. I dare not compare it to a spring garden, but truly, bearing witness to creation is quite the rush. I've been furiously working away at my desk for the past few days which often means lunch on the fly. Though I do eat good food, I don't always eat "well".
Today I decided to make myself a hot and healthy lunch. I got the inspiration for this dish from Diane Kochilas' recipe on Food52 which you can find here. Her recipe used pasta and cheese, but that felt too heavy for me today. I transformed her recipe into spaghetti squash with a Greek yogurt sauce, sautéed asparagus and caramelized onions with a hint of rosemary, and a drizzle of fruity olive oil.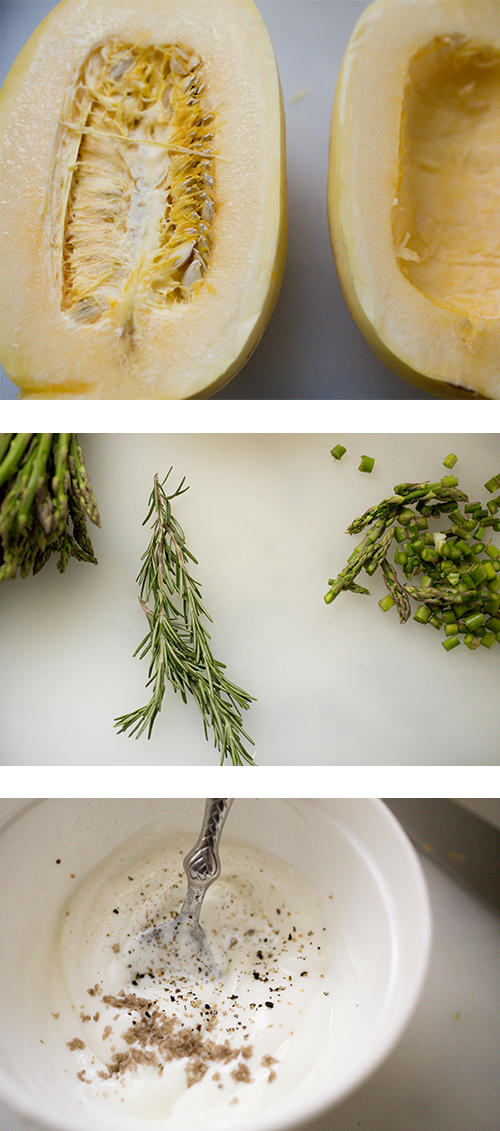 It didn't take long to make, and it was well worth it. I added smoked salt and freshly cracked pepper to the yogurt, along with a squeeze of fresh lemon juice. The tangy creaminess of the sauce was a delightful foil to the delicate bite of the squash and the smokiness and earthiness of the vegetables.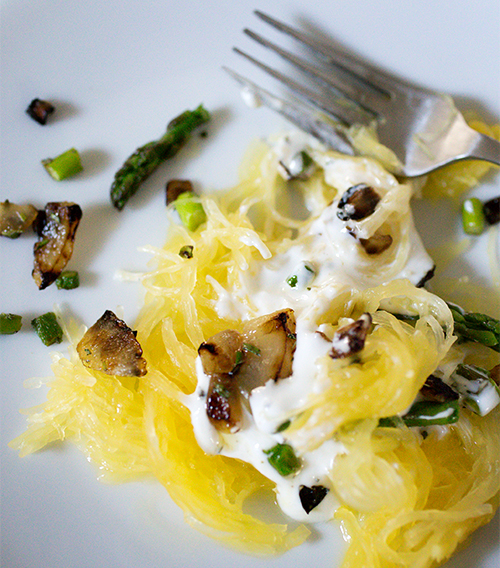 It makes a great side dish to some grilled chicken or fish for a heartier meal or light supper.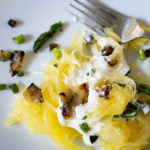 Spring Lunch: spaghetti squash with caramelized onion, asparagus and rosemary with yogurt sauce
2014-03-20 13:01:06
Serves 4
Nutrition Facts
Amount Per Serving
* Percent Daily Values are based on a 2,000 calorie diet. Your Daily Values may be higher or lower depending on your calorie needs.
Ingredients
1/2 of medium spaghetti squash
1 medium onion, diced
1/2 lb pencil asparagus, diced
1 teaspoon finely minced fresh rosemary
1 tablespoon olive oil
1 cup nonfat plain Greek yogurt
1/2 teaspoon smoked salt
1/8 teaspoon fresh ground black pepper
1 tablespoon fresh lemon juice
Instructions
Discard seeds from center of squash. Place in a bowl with 1/2 cup of water and microwave for 12 minutes, or until tender. Alternatively, roast in a 350˚ oven for 30-40 minutes.
While squash is cooking, warm olive oil in a small sautee pan over medium heat and add the onion. Cook gently until browned, about 5 minutes. Add the asparagus and rosemary and toss in the oil. Cook for 2-3 minutes until asparagus is bright green and still has some crunch. Remove from heat and set aside.
In a small bowl combine yogurt, salt, pepper and lemon juice and stir smooth.
When the squash is finished, scrape out the strands and divide between four plates. Top with a healthy dollop of yogurt sauce and vegetables.
optional: drizzle with a little fruity olive oil to finish.
Enjoy immediately.
Adapted from http://food52.com/recipes/24867-diane-kochilas-pasta-with-yogurt-and-caramelized-onions
Adapted from http://food52.com/recipes/24867-diane-kochilas-pasta-with-yogurt-and-caramelized-onions
A Healthy Hunger http://ahealthyhunger.com/