My favorite way to prepare acorn squash was to load the halves up with butter and brown sugar and roast them for-EVER. The result was a candied luscious squash that was more like candy. Nothing wrong with that, except for the excessive sugar, calories, and time it took to make it to the plate. I'm sad to say that there have been a few squashes that have languished too long on my counter and/or fridge because I didn't have the time or patience to wait for all that roasting. But now this.
Slicing Acorn Squash Ain't Nothing Like Cutting up Butternut Squash
One of the greatest inventions of our time are precut vegetables, especially butternut squash. If you've ever peeled and sliced your own, you know that that baby has some tough skin and can give your biceps a workout- not to mention challenge your skills of balancing a roll-y orb on your cutting board. Acorn Squash does not have those issues. A thinner skin makes it easier to cut through, and those ridges aid in submitting your squash to dissection. I will share a truth with you. I was suspect as to how good slicing the squashes would be compared to my long roasted half bowls- but holy crow! I am S-O-L-D! Wickedly delicious, much less of a calorie bomb, and all ready for the plate in 15 minutes.

What Makes Those Slices So Much Better
The earthy taste of squash dances so beautifully with the rich sweetness of brown sugar, but wait a minute- squash has its own gorgeous sweetness. When the squash has a chance to roast deeply and concentrate its natural sugars and flavors, the taste is out of this world. The slicing allows the heat to caramelize each piece, turning them into easy to eat lusciousness.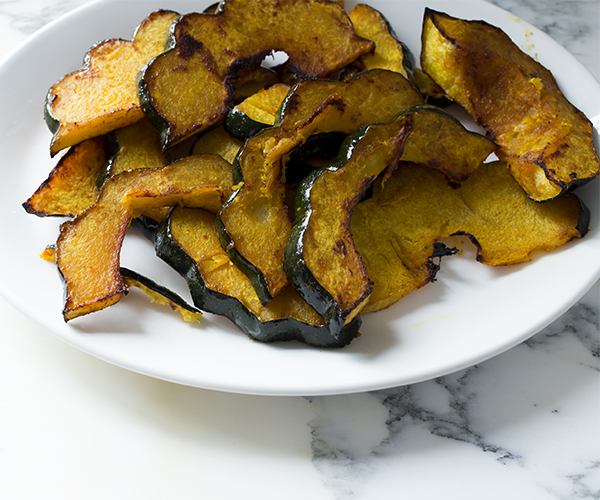 For this recipe I used half the amount of sugar, half the amount of oil, added a splash of tumeric and a healthy heap of smoked paprika. The result, a golden, smokey, lightly spiced squash that is delectable.
Smokey Sweet Roasted Acorn Squash Slices
2016-02-22 05:44:33
Serves 4
Nutrition Facts
Amount Per Serving
* Percent Daily Values are based on a 2,000 calorie diet. Your Daily Values may be higher or lower depending on your calorie needs.
Ingredients
1 acorn squash
2 tablespoons brown sugar
2 tablespoons olive oil
1 teaspoon tumeric
1 teaspoon smokey paprika
1 teaspoon salt
Instructions
Preheat broiler.
Slice squash in half and scrape out the seeds. Then turn each half cut side down and cut 1/2 inch slices, discarding the very top and very bottom.
In a large bowl combine the sugar, oil, tumeric, paprika and salt and stir to combine. Add half the squash and toss, taking care that each side of the slices are coated. Remove and add the second half using the remaining mixture to coat.
Place the slices in a single layer on a baking sheet or shallow roasting pan.
Broil for about 8 minutes, turn and continue to roast another 4 minutes until just crisping at the edges.
And that's it! Remove from the broiler and serve.
Notes
Leftover squash is great in a salad, or rewarmed for the next meal. Make a few at a time, and enjoy over the week.
A Healthy Hunger http://ahealthyhunger.com/