Other than in carrot cake, who likes mushy carrots? Though carrots are sweetened by cooking, the "mush" has never been a desirable thing for me. Raw carrots are great for snacking, or when dieting to get a satisfying crunch into your day, but not when it comes to a side dish at dinner.
Bugs Bunny Was a Wise Wasclely Wabbit
I'm sure it's not a revelation that carrots are great for your eyesight. Betacarotene is your eyes best pal. Not for improving your ability to read the newspaper, but for the ability to process the light coming through the eye. Having trouble with night vision? Carrots can be a help. But there is more to this common root vegetable. The orange color, or yellow, purple or white, is a source of phytonutrients, another excellent antioxidant. Recent research has suggested that eating carrots may also lower colon cancer risk. I've not read the research, but I can get behind the fact that carrots are also an excellent source of fiber, and the complex of antioxidants would surely make any colon happy.
The Secret To Crisp Tender
Carrots are a dense vegetable which can take hard cooking like boiling, but steaming produces the best flavor (other than perhaps roasting). The trick to just right carrots is too heat them in a pan while sauteeing with garlic, and then adding a few tablespoons of water and adding a lid. The steam keeps the flavor locked inside without water logging the carrot. The beauty of this is you can't over cook them, and the whole process is whip fast! I know that caraway seeds are not a common spice to have in your cupboard, but the compliment to these carrots is worth procuring some. You can find my favorite
here
.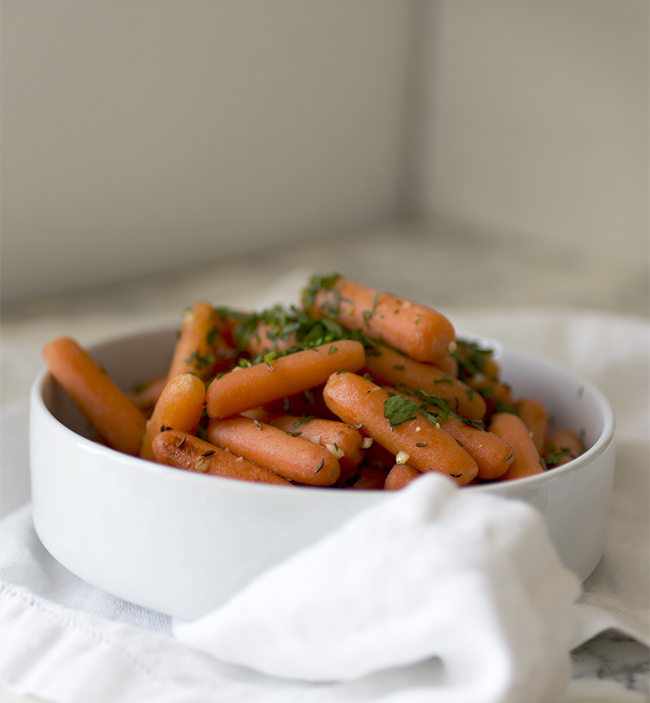 Skillet Carrots with Caraway and Garlic
2016-02-07 18:29:19
Serves 4
Nutrition Facts
Amount Per Serving
* Percent Daily Values are based on a 2,000 calorie diet. Your Daily Values may be higher or lower depending on your calorie needs.
Ingredients
1 lb carrots, either baby or regular peeled and cut into even pieces
1 Tablespoon caraway seeds
1 clove garlic, chopped
2 Tablespoons olive oil
4 Tablespoon chopped parsley
1 lemon, quartered
salt and pepper
Instructions
In a large sautee pan over medium/high heat, warm the oil and then add the carrots. Toss to coat the carrots and let sit for 5 minutes to char on one side. Add 3 Tablespoons of water and place a lid on the pan. Cook for 3 minutes, then remove lid and continue to cook until the water is evaporated. Add the garlic and caraway and continue to cook while tossing the carrots for 2-3 minutes until garlic is cooked and fragrant.
Remove from the heat and toss with the parsley, salt and pepper. Serve with the lemon wedges for some extra zing to the sweetness.
A Healthy Hunger http://ahealthyhunger.com/