Thank you all so much for the incredible response to Veggie Inspiration! It makes my heart happy to be able to do whatever I can to help you all eat better.
Sweet Potatoes are BOSS
If you're going to get excited about a vegetable pick this one. First off, you know that the gorgeous color means that they are packed with gorgeous antioxidants, and the orange means Vitamin A. Yep, 1 cup of sweet potatoes can benefit you with over 200% of your daily needs for Vitamin A, 53% of Vitamin C, and a glorious 26% of fiber! Along with this goodness the
sweet potato
pulls some very healthful micronutrients from the soil, such as copper, manganese and potassium. Altogether the sweet potato a powerhouse vegetable that is downright delicious too.
Worth its starch in gold
With so many people anti-starch I am happy to report that sweet potatoes are much lower on the GI scale than the white potato. To better absorb the nutrients in sweet potatoes it's best to prepare them with a little fat- like a tablespoon or two of olive oil. This combination will keep the sugar conversion in your bloodstream at a healthy rate, even for the diabetic. So eat up my friends!
Easy ways to prepare sweet potatoes
Sweet potatoes are best when steamed (nutritionally speaking), but roasting is a fine close second. This version takes just a few minutes of prep and quietly cooks away while I prepare the rest of my meal. Personally I find the time it takes to roast whole sweet potatoes too long for my hungry belly. My best answer is to precook them the day before. I am known to toss one or two into my oven that is busy roasting off something else, or to keep the oven on and cook them while I'm eating my dinner. Once cooked I can easily warm them up in my rice bowl, mash them, or quick sautee them along with my lunch or dinner. But my favorite way is sliced with garlic and sage. Trust me, this will knock your sox off.
The sweet earthy mellowness of the sweet potatoes loves the toasted garlic, and the sage offsets the earthiness like nothing else. I personally prefer to use fresh sage (which I keep growing on my windowsill), but dried sage works perfectly well. I recommend rubbing the dry leaves between your fingers as you sprinkle over to unleash the beautiful aroma. More Sweet Potato Recipes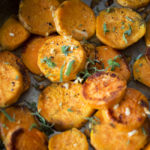 Roasted Sweet Potatoes with Toasted Garlic and Sage
2016-01-17 07:48:48
Serves 4
Nutrition Facts
Amount Per Serving
* Percent Daily Values are based on a 2,000 calorie diet. Your Daily Values may be higher or lower depending on your calorie needs.
Ingredients
4 medium sweet potatoes
2 cloves garlic, minced
2 tablespoons olive oil
2 tablespoons minced fresh sage leaves, or 1 tablespoon dried
salt and pepper
Instructions
Preheat oven to 400 degrees.
Peel potatoes and slice into 1/4" rounds. Place into a large bowl.
Add the garlic and olive oil and toss until the the potatoes are completely covered in the oil.
Spread evenly into a shallow roasting pan or baking sheet, scraping any garlic clinging to the bowl onto the pile.
Roast for 10 minutes, then using a spatula turn the potatoes over and then roast for an additional 10 minutes until golden and crispy on the edges.
Remove from the oven and season with salt and pepper and toss with sage.
Enjoy!
A Healthy Hunger http://ahealthyhunger.com/