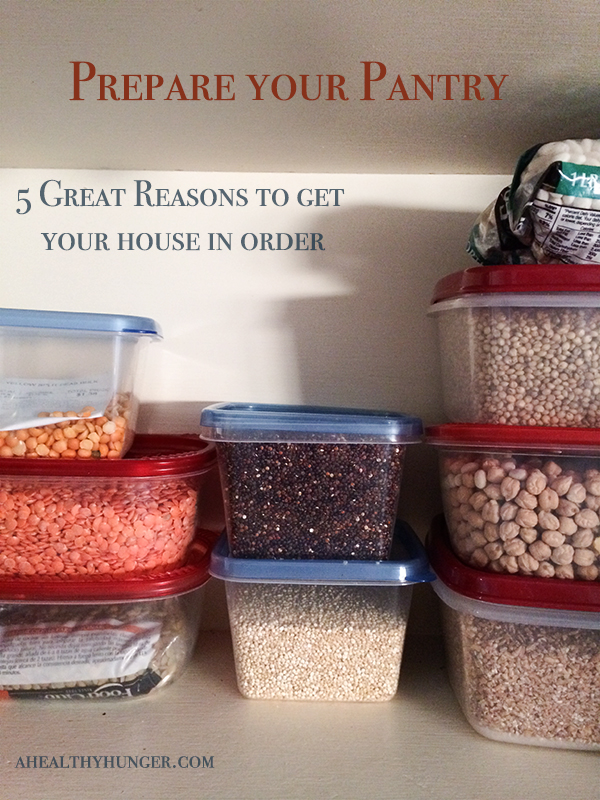 It's a new year and for many a fresh start. Before you go shopping for new foods for the new you, take some time and literally get your house in order: Prepare Your Pantry.
Aside from the obvious neatness of a cleaned pantry, here are 5 reasons to take some time and get into your cupboards.
5 Reasons to Revamp Your Pantry
Make room for the new. In order to bring in something new, we first need to be prepared for it. Before bringing home a new baby a space is made, a crib set up, clothing purchased, and diapers stacked. This is done to make the transition smooth and allow us to give full attention to the new life. The same goes for bringing in a new "life" for ourselves. If we try and jam in new things where this no space, the result is often discord and chaos, which ultimately can lead to failure. Let go of the old, then bring in the new.
Update and Refresh. The pantry is the residing place for our dry staples, but nothing is meant to remain indefinitely. Periodically it's best to go through and cull the things that have past their prime. Baking items like baking powder and baking soda need to be replaced about every 9-12 months. Flours should be replaced every 8-12 months, and nuts, oils and chocolates should be checked for rancidness.
Take inventory. If you're like me the back of the pantry is a treasure trove of esoteric ingredients that have made way for the regular rotation of more often used items. It's best to take a periodic inventory to make meal/menu design more efficient. A well stocked pantry has items that can be used to pull together a last minute meal with ease. Make a list and fill in the missing items to round out a functional pantry.
Remove temptation. Even if you're good at resisting temptation, studies have shown that the mental exercise of refusing a desire can raise stress levels. A person who is continually practicing self control has lower concentration levels and shorter fuses. Rearrange your items to make your pantry appealing and healthy first.
Create a healthy pantry. I like to think of my pantry as a tool box. It's very satisfying and efficient to be able to go to my pantry and reach for quality and healthy items. Fill your pantry with an array of great options such as several varieties of whole grains, peas and beans, rices. Update and refresh dried herbs and spices which lose their potency over time. If possible, store beans, quinoa and lentils in see through containers for daily inspiration and easy access.
What To Discard
For a healthy pantry discard processed and packaged foods. Keep your items as close to their native state as possible. Read labels and anything with sugars, hydrogenated oils, fake sugars and the like should be discarded. Check dry goods for signs of bugginess, moulding or rancidity. Check freshness dates, including those on cans and bottles.
An organized and well stocked pantry is the foundation for healthy cooking- taking some time to create that base will give you months of pleasure and good eating.