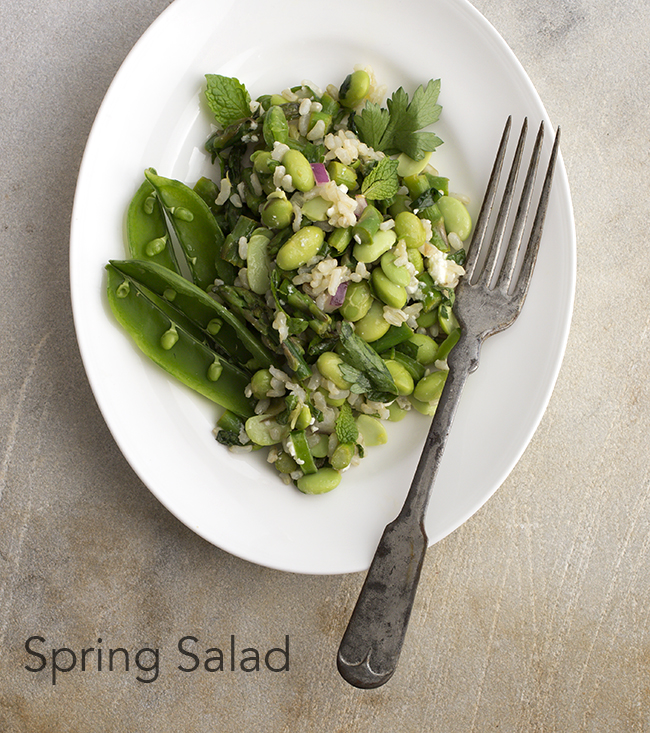 This salad is so chocked full of texture from edamame, asparagus, sweet crunchy snap peas. It's then brightened with fresh flavor from mint, parsley and a lemony dressing, it will blow your mind. It's officially Spring and things are popping around here.
Making these melange vegetable and grain salad is such a great and easy way to get healthy food into your belly easily. I used pre-cooked brown rice and pre-cooked edamame, both purchased from Trader Joes. Two seconds out of the freezer and I was halfway there. The only cooking involved was steaming the asparagus for 2 minutes, the rest is just chopping and tossing.
As some of you know, I've been working hard on a new diet pan. It's full of fresh and light recipes that makes cleaning up your diet and trimming your waistline accessible and realistic with incredible taste. What I love about this plan (which I personally have been following for a few weeks now), is that it's so satisfying to know that my next meal is already thought out for me and it's going to be delicious. DELICIOUS! This means that it doesn't feel like a diet, it feels like a relief. The bonus is greater vitality, a smoother running body and a scale that is finally my friend.
I plan my meals 4 days in advance from the lists provided and then I put together a shopping list and calendar. I do a little batch cooking, mostly as I go along, so no big thing. I make a few days of grains, pre-wash and prep some of the veggies and I organized my fridge so everything is easy to access. It sounds silly, but just doing a few of these things makes eating better SOOOOOO much easier. It also means that when I open the fridge I'm greeted with exciting food and just a few steps to pull it together.
This salad is one of my lunch items from a list of about 25 recipes. It's great in a container to take along with you. It's got powerful nutrition too. Just 300 cals per serving, 8 grams of fiber (a third of your daily need), 35% vitamin A, 58% vitamin C (two awesome anitoxidants), and 31% iron, something all us gals need.
If you want to keep updated on the diet plan please subscribe to the mailing list. I will be offering discounts to my subscribers, so that's a good thing. (and don't worry, I won't spam you or barrage you with correspondence, I'm just not that kind of girl).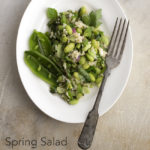 Edamame Asparagus Minted Spring Salad
2016-03-22 09:32:08
Serves 4
Nutrition Facts
Amount Per Serving
* Percent Daily Values are based on a 2,000 calorie diet. Your Daily Values may be higher or lower depending on your calorie needs.
Ingredients
2 cups cooked brown rice
2 cups pre-cooked edamame
2 cups chopped asparagus
1/2 cup chopped parsley
1/2 cup fresh mint
1/4 cup diced red onion
1/2 cup chopped sugar snap peas
1 oz crumbled feta cheese
6 tablespoons fresh lemon juice
1 tablespoon dijon mustard
2 tablespoons olive oil
salt and pepper
Instructions
Toss it all together and BOOM! you're done. Check for seasoning, adding more lemon, salt and/or pepper to taste.
A Healthy Hunger http://ahealthyhunger.com/