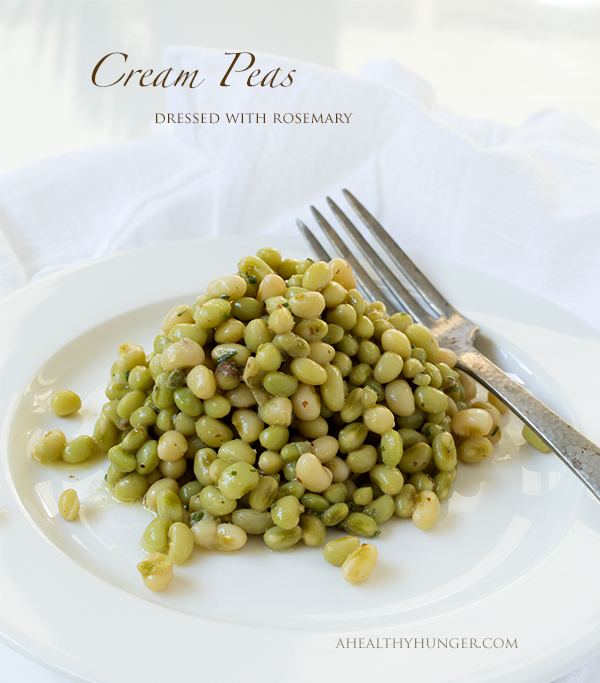 Cream Peas are a variety of field peas. Of course you have heard of black eye peas, which, as a born New Yorker, was all that I knew of "peas". But now that I live in the South, there are all sorts of peas to choose from. Crowder, Purple Hull, Speckled Butter Beans, Pink Eyed Peas are just some of them. When the farmers market is in swing you can purchase bushels of peas and hull them yourself. A job that makes for some good porch sittin'. Personally I purchase my peas already out of the shell. They are not cheap, but certainly worth my money versus the amount of time it would take to work through that pile of long slender pods. There are many traditional recipes for field peas. Hoppin' John and Succotash are the most common, but when I asked around at the market, the most advised method was to cook up some bacon and fry up the boiled peas in the grease with some garlic and onion. There is nothing wrong with that- but somehow I felt these delicate Cream Peas were just to subtle and lovely to take on that heaviness. Cream peas have a tender mush to them, and a mild flavor that I felt didn't need clobbering with a heavy hand. On another day I would have added some rice along with the peas to round out the salad, but after I made the batch they were just too good on their own. This bowl of peas lasted a few days in our fridge. Most landed by the scoopful over greens at dinner, or with rice and egg for breakfast. They have enough texture not to fall apart, but are still wonderfully creamy to eat. Peas are loaded with fiber- 4g in this serving alone. They are also a good source of protein, vitamin C and Iron, and have a low glycemic load. You may not find fresh Cream Peas out of the South, but you most certainly can try this recipe with Black-Eyed Peas or any other variety you may find. The best are fresh/frozen, but canned will do in a pinch. You can order dried
Lady Cream Peas
. They will work equally well. Just give yourself time to soak them. You can read more on cooking with dried peas/beans
HERE
.
Cream Peas Dressed with Rosemary
2014-10-28 14:25:08
Serves 6
Nutrition Facts
Amount Per Serving
* Percent Daily Values are based on a 2,000 calorie diet. Your Daily Values may be higher or lower depending on your calorie needs.
Ingredients
1 lb Cream peas (also known as lady cream peas)
1 small yellow onion
2 sprigs lemon thyme
2 cloves garlic, divided
1 tablespoon minced fresh rosemary
3 tablespoons olive oil
2 tablespoons white balsamic vinegar
2 tablespoons grainy dijon mustard
salt and pepper
Instructions
In a medium/large pot, place fresh or frozen peas and cover with 2" of water. Add a quartered onion (no need to peel), 1 clove or smashed garlic, the lemon thyme and a generous pinch of salt. Bring to a boil, then reduce to a simmer. Cover and cook until the peas are tender, about 40 minutes.
Drain the peas, remove the onion, thyme and garlic and set aside to cool slightly.
In a large bowl combine the second clove of garlic, finely minced, rosemary, olive oil, vinegar and mustard. Whisk thoroughly and add salt and pepper to taste.
While the peas are still warm, toss with the dressing.
Serve right away as a side dish, or keep in the fridge for up to 4 days.
Notes
Fresh or frozen peas are best. Canned work well too, please rinse well before using. You may also use dried peas.
A Healthy Hunger http://ahealthyhunger.com/