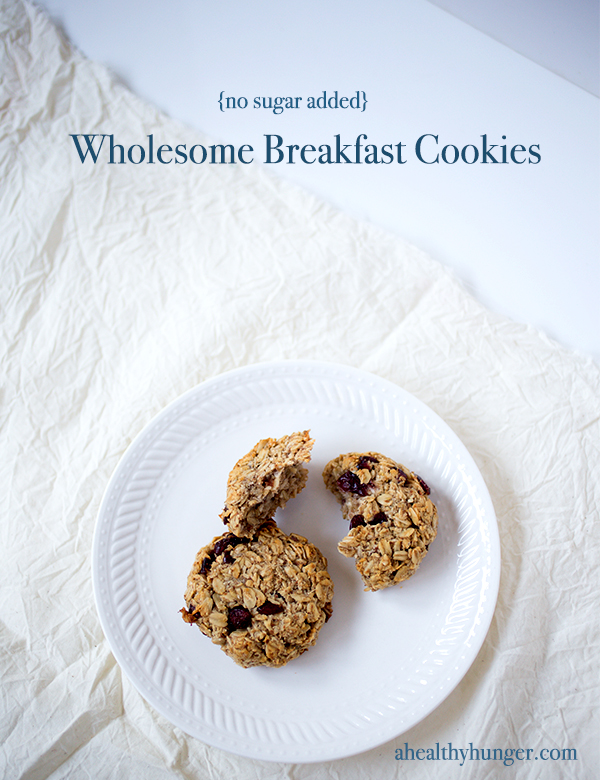 If you're getting a little bored with store bought energy bars, or if you're just a little suspect of what goes into them, I bring you a wholesome breakfast cookie. It's sweetened with mashed ripe bananas, and it's loaded with whole oats and good fats. There are no eggs, dairy or gluten in this recipe, which you will not miss.
It took me a painless 10 minutes to get these beauties ready for the oven. The hardest part is rolling them into balls. If you're not so into all that fiddling you may press the dough into a small 8″x8″ baking pan and slice the cookies into bars when they cool. This is a great recipe to make with kids. Clean little hands can get in there and squeeze the mixture together. Unlike traditional cookies which get tough with over handling, these babies need the handling to draw out the stickiness of the oats.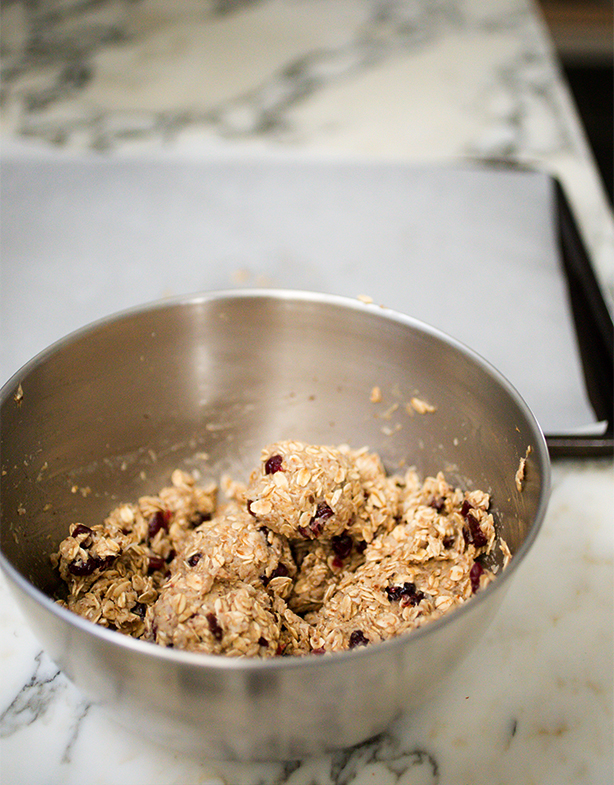 The cookies are hefty and just a little sweet. Nothing like the overly sweet toaster treats that are on the market shelves. You can feel good about handing one of these to your kids. They are also a canvas for alternative add ins. Raisins, dried apples, peanuts, etc. I like to use up the last bits of nuts or dried fruits- who's to know it wasn't part of the recipe?
The cookies keep well wrapped in the breadbox for up to 5 days, or you may refrigerate them for lasting freshness.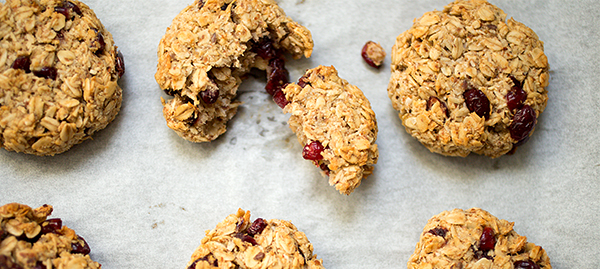 Coconut Cranberry Breakfast Cookie
2014-01-27 06:08:01
Serves 12
A power packed "cookie" that uses mashed banana for sweetness.
Nutrition Facts
Amount Per Serving
* Percent Daily Values are based on a 2,000 calorie diet. Your Daily Values may be higher or lower depending on your calorie needs.
Ingredients
1 cup mashed ripe banana, or apple sauce
1/2 teaspoon cinnamon
2 cups rolled oats
1/2 cup ground almond
2 oz dried cranberries
2 oz unsweetened flaked coconut
2 tablespoon honey
1 teaspoon vanilla
4 tablespoon olive oil
Instructions
Preheat oven to 350˚ In a bowl mix together: bananas, honey, vanilla and cinnamon. Add the oats, nuts, coconut and cranberries. Mix with your hands and squeeze until the oats get sticky and the mixture starts to bind. Form into 12 individual balls and flatten on a cookie sheet. Bake for 25-30 minutes until golden.
Adapted from The Healthy Chef- Teresa Cutter
Adapted from The Healthy Chef- Teresa Cutter
A Healthy Hunger http://ahealthyhunger.com/
Follow my blog with Bloglovin