Once again here comes the weekend. This time of year we are often out on our bikes or the tennis court, so I like to have a meal or two ready to eat in the fridge for a quick post fun snack. The beauty of this dish is it's pretty much hands off, and hardly any chopping. While the cauliflower roasts, the fuscilli boils, and the marinade is mixed into a large bowl. When the bits are all cooked, it all comes together like a dream.
Cauliflower was never one of my favorite vegetables, but over the years it has wend it's way into my heart. Now I adore you cauliflower with all my heart! Most people put it off because it's not a veg of "color", and therefore believing it's not as nutritious. The fact is that cauliflower is loaded with Vitamin C, folate, and fiber- all in a low calorie package.
There are lots of ways to prepare cauliflower and roasting is one of my favorite. Aside from the ridiculous ease, I love how the florets caramelize and get gorgeously delicious. Like magic!
When The Wife took her first bite her eyebrows went up with delight #SmokeyPasta
Click To Tweet
For added nutritional boost I always prepare pasta with added protein and/or fiber. Check your store aisle, or try one of these brands of protein pasta
. The texture and taste is exactly the same of traditional pasta, you'll be delighted.
The addition of smokey paprika, chili and lime make this a zesty dish that is very unexpected. When The Wife took her first bite her eyebrows went up with delight. I thought that we might have enough for a few days of snacks, but don't you know, she put away bowl after bowl until it was gone by the next day.
I hope you give this dish a try, I think you'll be delighted how easy and surprisingly delicious it is.
Happy Weekend everyone! Please get out and play!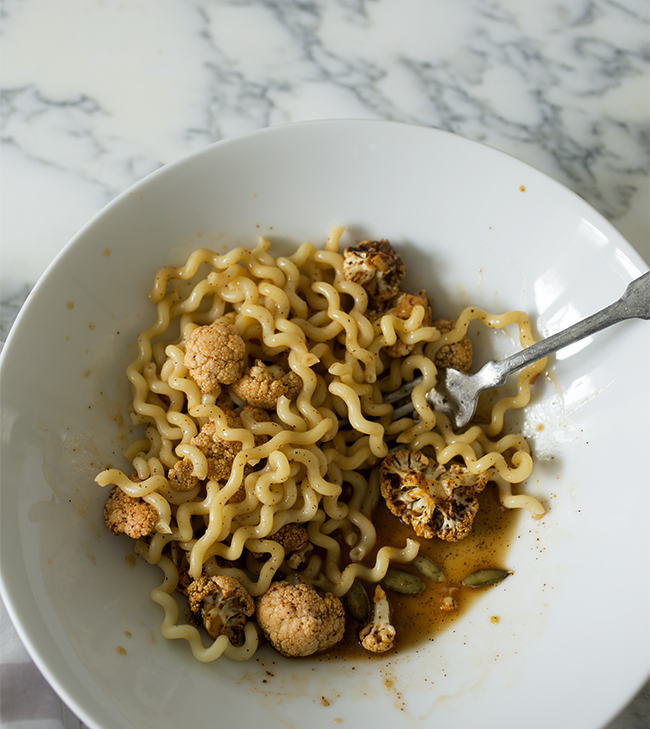 Smokey Roasted Cauliflower Fuscilli
2015-05-01 13:15:02
Serves 4
Nutrition Facts
Amount Per Serving
* Percent Daily Values are based on a 2,000 calorie diet. Your Daily Values may be higher or lower depending on your calorie needs.
Ingredients
1 head cauliflower, broken into small florets and stems chopped
8 oz protein fuscilli pasta
1 lime, juiced
3 cloves garlic, minced
1 T Chili powder
2 t smoked paprika
2 T olive oil
1 T pepitas, optional
Instructions
Preheat the oven to 350 degrees and set a large pot of water with a heavy dash of salt to boil.
Prepare a baking sheet with cooking spray and lay out cauliflower onto it. Slide into the oven and roast until golden, about 20 minutes.
When the water boils add the pasta and cook until tender, about 15 minutes (check package for specific timing)
In a large bowl combine the lime juice, oil, chili, paprika garlic and stir to combine. Just before the pasta is done add 2 T of the pasta water and stir thoroughly.
Drain the pasta and toss into the bowl along with the roasted cauliflower. Season with salt and pepper to taste.
That's it! Enjoy!
A Healthy Hunger http://ahealthyhunger.com/
For more recipe inspiration, please check out our weekly menus service.