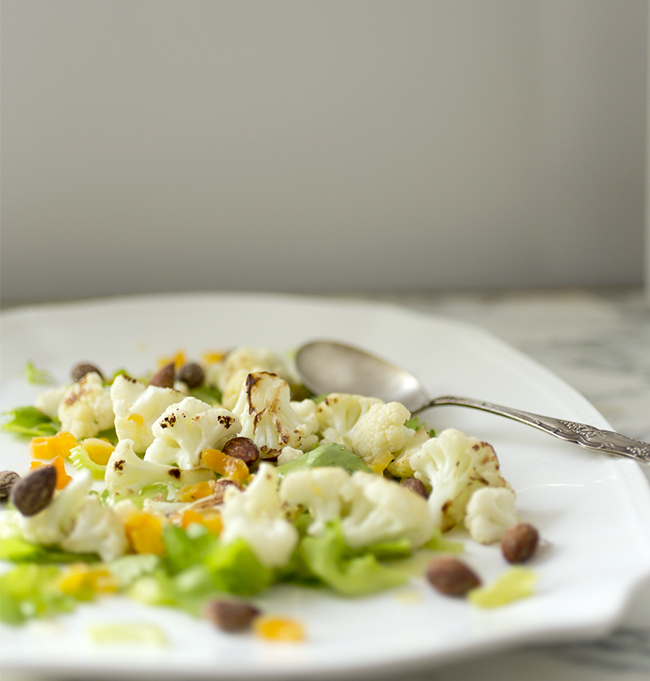 Many years ago I read an article in the NY Times Food Section about a chef and his sweetheart. It turned out that the woman of his dreams did not like cauliflower, so he set off to come up with recipes that would make her fall in love his favorite vegetable, and hopefully him. I always loved that story. Aside from the beautiful romanticism of the act food and love, I was amazed that anyone could actually really like this bland sulphurous vegetable. I grew up mainly on the east end of Long Island, in a community that had many Polish families, (potato farmers who have since fallen away to the vineyards). I have one distinct memory of playing after school at a friend's house which was filled with this noxious foul order. We stumbled in from the yard through the kitchen door and I stopped in my tracks. "What is that SMELL!", I exclaimed with nose wrinkled as far as it would go. My pal shrugged nonchalantly, "Cauliflower". Upon the stove was a huge pot fiercely boiling that poor vegetable within an inch of its life. Needless to say I did not stay for dinner.
Cauliflower is the New Kale
We've been taught to "eat the rainbow" and reach for color in vegetables as an indicator of nutritional vibrancy. Surprisingly this pale cruciferous orb is packed with goodness. One cup yields about 70% of the daily recommended intake of Vitamin C, 19% of Vitamin K, Folate, several necessary minerals and 11% fiber! All for a measly 30 calories. Cauliflower may be enjoyed raw, blanched, sauteed etc- but not boiled to oblivion. To keep the sulphur smell down (and nutrition up), please lightly cook until just tender. The flavor is then quite neutral, or even, to me, slightly spicy. For this recipe I warmed a little oil in a pan and seared the cauliflower for a couple of minutes, then added a few tablespoons of broth to gently steam to tenderness. You may be tempted to drown cauliflower in cheesy sauce, but I like the caramelized earthiness of it's natural self.
Adding Texture is the Secret To This Salad
This is my new favorite salad. I just love the watery crunch of the celery paired with the caramelized cauliflower, the sweetness of the apricots, the gentle acid of the grapefruit dressing and the surprising smokey crunch of the almonds. It's easy to make a big batch of this salad. If not, at least keep some cooked cauliflower in your fridge to toss into any salad you like. And what happened to the chef and his sweetie? Of course she fell in love with him, and eventually married him. Creating love dishes is the chef equivalent of scaling a ivy covered tower wall, which is what I wish for you all.
Caramelized Cauliflower Celery Salad
2016-02-01 06:22:33
Serves 4
Nutrition Facts
Amount Per Serving
* Percent Daily Values are based on a 2,000 calorie diet. Your Daily Values may be higher or lower depending on your calorie needs.
Ingredients
1 small head cauliflower broken into florets, or 6 cups florets
3 tablespoons vegetable broth
3 ribs celery, plus some of the internal leaves
6 dried apricots, minced
2oz smoked almonds
1/4 cup grapefruit juice
2T lemon juice
3 tablespoons olive oil
salt and pepper
Instructions
Warm a large sautee pan over medium high heat and prepare with cooking spray. Add the cauliflower and cook for 5-7 minutes, tossing occasionally, until edges are charred. Add the broth and cover for 2 minutes, then remove lid and allow any remaining broth to boil off. Remove from the heat.
In a small bowl combine the apricots, juices, oil, salt and pepper.
Arrange the cauliflower and celery on a platter and spoon dressing over. Sprinkle with the almonds and serve.
Notes
If you cannot find smoked almonds you may add regular almonds or hazelnuts toasted in its place.
A Healthy Hunger http://ahealthyhunger.com/