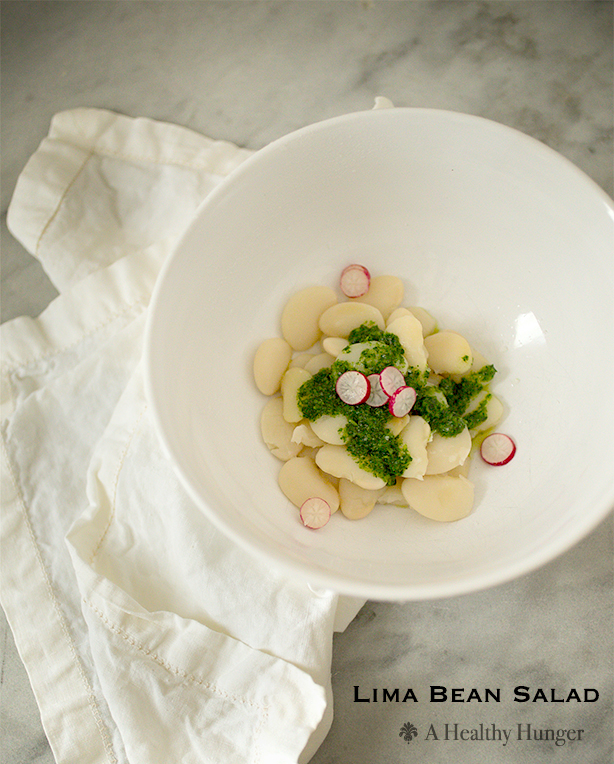 Beans are a fantastic way to add fiber and protein into your diet for mere pennies- and this Lima Bean Salad couldn't be easier to make.
Some folks shy away from beans due to their notorious reputation of indigestibility. Gas, bloating and some indigestion are some common affects after eating beans. To combat these problems there are several things you may do. Though they take some time the end result is not only a "toot-less" bean, but a more flavorful one as well.
The fact that you might have problems with beans is no fault of your own. Beans contain oligosaccharides, a complex sugar, for which our gut does not have the enzyme to digest. As a result, the long retention time in the gut leads to fermentation, and the by product of that is gas.
Folks that consume a regular high fiber diet seem to have less of an issue, perhaps due to less "hang" time in the gut. It's been said that the more often you eat beans, the less problem you might have- this would be the reason.
However there are other options in the preparation process that can help. Long soaking with frequent water changes can help to break down the oligosaccharides in the beans that we have trouble digesting. Soaking beans for over 24 and up to 72 hours, with several water changes a day, can make a big difference.
A long slow cooking time is also beneficial. The options for this are low slow simmering on a stove top, using a slow cooker, or even baking them in a low oven. Cooking beans for many hours gives them time to break down those hard to digest fibers and sugars.
Another method is to soak and cook the beans with a piece of Kombu seaweed. Kombu can be purchased dried and can be found in most health food stores. The seaweed naturally contains the enzyme needed to break down the oligosaccharides.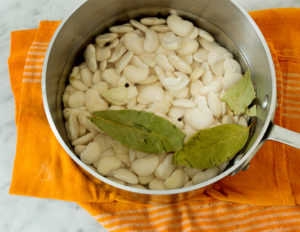 All this soaking and slow cooking might be a greater time investment than you were planning on. Personally I typically soak my beans for two days, changing water when I think of it, and then I cook mine in a pressure cooker. I have found this to also be helpful in making the beans more digestible, and the cooking time is minutes, not hours.
Whichever way you decide to prepare your beans I highly recommend making a fairly large batch. Cooked beans will keep in the fridge for several days, or you can portion them out and freeze them for near future use.
I like to make a batch of simple marinated beans such as these and then toss them into a salad, or add them as a side to any lunch or dinner dish.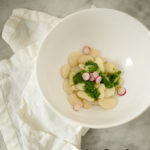 Lima Bean Salad
2013-11-14 03:01:06
Serves 6
Presoaking the beans makes for less cooking time and easier digestibility.
Nutrition Facts
Amount Per Serving
* Percent Daily Values are based on a 2,000 calorie diet. Your Daily Values may be higher or lower depending on your calorie needs.
Ingredients
2/3 cup dried Lima beans
2 bay leaves
4-6 black pepper corns
2 cloves garlic, whole
1 cup parsley, roughly chopped
2 tablespoons olive oil
1 tablespoon lemon juice
1 teaspoon dijon mustard
1 teaspoon honey
1 pinch of fresh minced garlic
1/4 teaspoon salt
1/8 teaspoon pepper
4 radishes, thinly sliced
Instructions
In a large bowl place the dried beans and 4 times more water. Leave to soak for 24-48 hours, draining and rinsing 2-3 times a day.
Place drained beans in a pot and cover with fresh water. Add the bay leaves, peppercorns and whole garlic. Bring to a boil and reduce to a simmer and cook until the beans are tender. The time will vary depending on how well soaked the beans are. Start checking for doneness after 15 minutes.
Remove the bay leaves and garlic from the broth and drain, then fish out the peppercorns.
Gently rinse the beans and set aside.
In a blender combine the parsley, oil, lemon juice, mustard, honey, garlic and salt. Puree to a rough pesto like paste.
Toss gently with the beans and add the radishes to serve.
A Healthy Hunger http://ahealthyhunger.com/