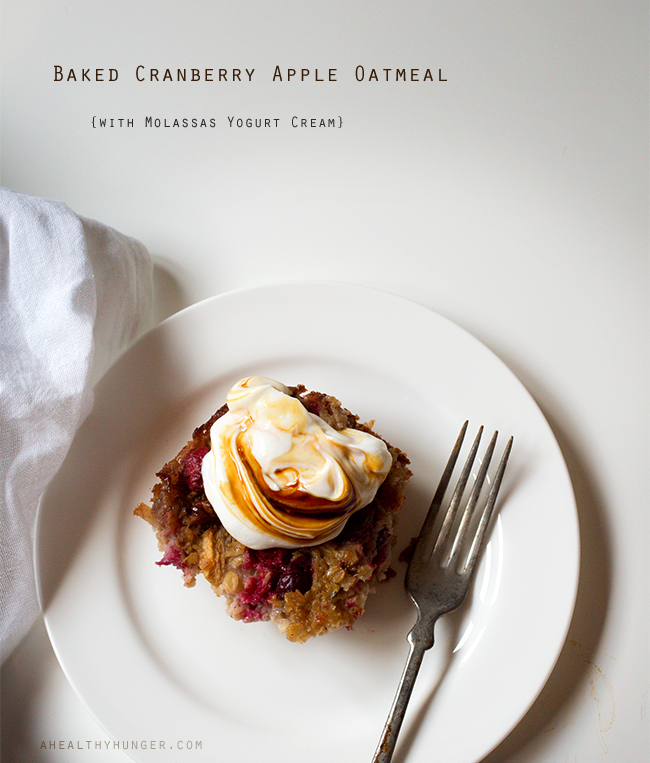 When you have a house full of guests for the holidays, a batch of healthy and delicious baked oatmeal will get everyone going with little effort on your part.
I've hosted countless holiday meals at my house, Thanksgiving being one of my favorites. I wake up early and head into the kitchen and open the groaning stocked fridge to begin preparing for the days big meal. Then one by one sleepy heads would wander up to the counter looking for the start to their day. Oh right. What to make for breakfast?

Without a doubt no one would starve that day, but it always seemed wrong to me that with so much wonderful food around I would subject my morning lovelies to cold cereal. Then again- who had the time, or counter space for making a full on breakfast?
I love baked oatmeal. You may prepare it the evening before and then pop the whole thing into the oven when you rise. In 30-40 minutes you have a warm breakfast that fills the house with good smells right from the get go. The dish is loaded with fiber, protein and is not overly sweet. This low glycemic meal will fuel everyone beautifully for the day ahead, while leaving room for the indulgences later on.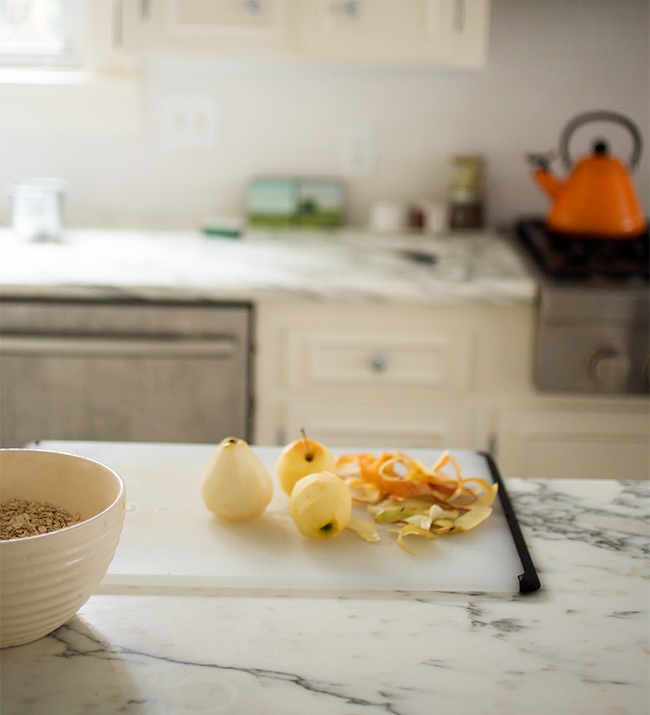 You may eat the oatmeal just as it is. With bits of baked apple, pear, cranberries and walnuts it's perfectly fine on it's own. For a nutritional boost I topped mine with some plain Greek yogurt that is laced with molasses. The molasses adds just a touch of sweetness and an earthy quality that compliments the oats like nobody's business. Not a fan of molasses? Swirl in some honey or maple syrup- also divine.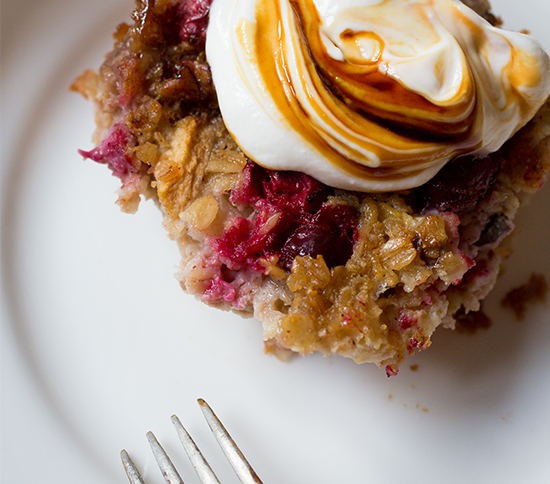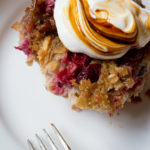 Baked Oatmeal with Cranberry, Apples, Pear and Walnuts
2014-11-22 08:06:01
Serves 10
Nutrition Facts
Amount Per Serving
* Percent Daily Values are based on a 2,000 calorie diet. Your Daily Values may be higher or lower depending on your calorie needs.
Ingredients
2 1/4 cup old fashioned oats (not steel cut)
2 teaspoons pumpkin pie spice blend
1 teaspoon baking powder
1/2 teaspoon salt
2 cups 2% milk (may substitute plant based milk)
2 large eggs
1/3 cup agave syrup
2 tablespoons light brown sugar
2 teaspoons vanilla
1 large apple, peeled and diced
1 pear, peeled and diced
1 cup cranberries
1/2 cup rough chopped walnuts
3 cups nonfat Greek yogurt
3 teaspoons molasses
Instructions
Preheat oven to 375 degrees
Prepare a 9x13 baking pan with cooking spray
In a large bowl combine the oats, spice, salt, baking powder. Stir to combine.
In a second bowl combine the milk, eggs, agave and brown sugar and whisk to incorporate.
Add the fruits to the oat mixture and toss. Dump into the baking pan.
Pour the milk mixture over the oats and stir gently to blend. Sprinkle walnuts on top and place into the oven.
Bake until the oats are golden, the cranberries burst and the middle is firm. Set aside to cool.
In a small bowl place the greek yogurt. Stir until smooth and creamy. Add the molasses and fold in. Serve over warm or room temperature oats.
Notes
You may prepare this dish up to the point of putting it into the oven. Cover and keep in the fridge overnight. Remove from the fridge while the oven is warming, then place the pan directly into the hot oven.
You may also bake ahead and rewarm up to 2 days ahead.
A Healthy Hunger http://ahealthyhunger.com/
Have a Happy and Healthy Thanksgiving everyone!