The Spring feels like it needs to be dragged out of the winter grays. This Spicy Minted Citrus Salad , with all it's bright colors, is just the thing to do it.
I love to combine different levels of citrus together. The sweet pay compliment to the more tart, and their colors both shine and rejoice in each other's company. To make things more interesting I've added some torn dates and a dusting of red pepper flakes. The sweet chewiness of the dates are a nice contrast to the juicy bites, and the spice is a tease that you don't really expect.
Think of this salad as we enter the holidays. It's both wonderful on a brunch or lunch table and the colors and taste will brighten everyone's day. Or add it to your lunch box. What an afternoon treat!
btw- if you like my oil cruet you may find it to purchase HERE. Mine was given as a gift, and it's one that I use frequently and with pleasure.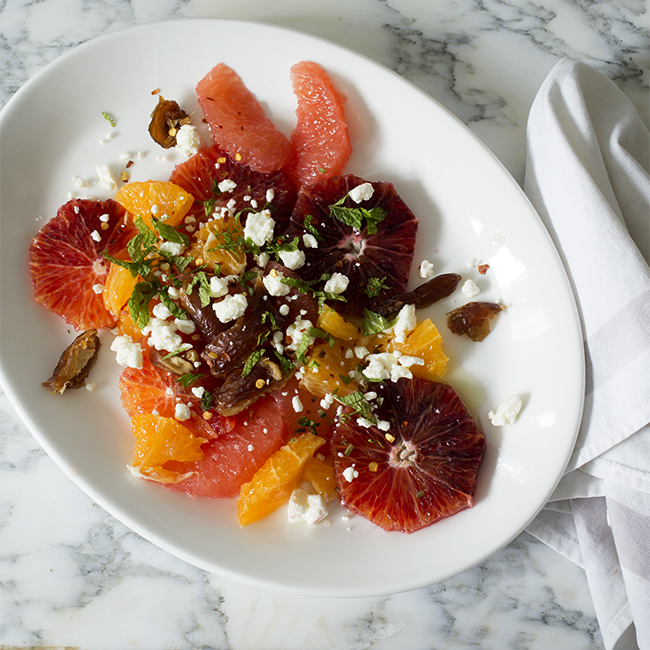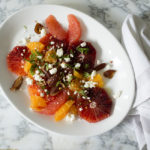 Spicy Citrus Salad with Dates and Mint
2015-03-17 13:49:08
Serves 6
Note: you may substitute any other citrus or berries you have available in your market.
Nutrition Facts
Amount Per Serving
* Percent Daily Values are based on a 2,000 calorie diet. Your Daily Values may be higher or lower depending on your calorie needs.
Ingredients
2 medium pink grapefruit
2 medium tangelos
2 medium blood oranges
4 dates, torn into small pieces
2 tablespoons fuity olive oil
2 oz feta cheese
1/2 cup rough chopped mint
1/4 teaspoon chili flakes
Instructions
Slice the rinds off of each piece of fruit and either supreme the sections or slice into rounds.
Arrange on a platter and distribute cheese, dates, mint and chili across the top and finish with the olive oil.
Serve immediately.
Notes
To prepare in advance you may cut the fruit and keep it in the residual juices in a container for one day. Remove from the juice and arrange on a platter. Don't waste the leftover juice- add a splash to your water!
A Healthy Hunger http://ahealthyhunger.com/