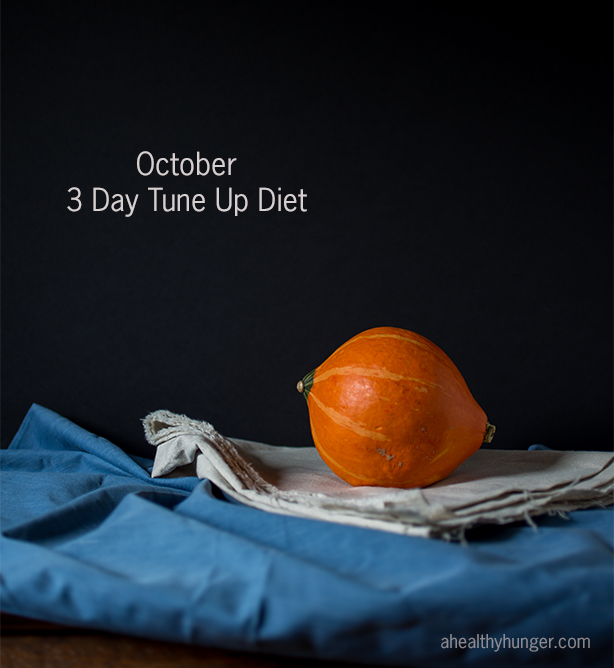 A lot has been going on here. Due to the tremendous success of the 3 Day Cleanse Diet I've decided to create a monthly offering. However- many people were confused by the term "cleanse"- equating it to juicing, pain, suffering and horror.
What is the Tune Up Diet?
The point of the diet is really to give your system a break and help reset your inner balance. Juicing and extreme cleanses are quite popular these days. For some reason folks like to think that to be extremely healthy you need to extremely suffer. I don't accept that for one moment.
Going to extremes may actually be quite UNhealthy for you- it actually stresses your system and can deplete you of essential vitamins and nutrients. If your juicing for days on end you're depriving yourself of nutrients, let's use the example of calcium. We need calcium for many functions, especially muscle contractions- like the one your heart does 70 or so times a minute. So where does that essential calcium come from? Right from your bones. Well that ok you think, what's the big deal? Do you replace that calcium when your finally get around to enjoying some yogurt or a glass of milk? Nope. Very sadly, as adults, once calcium is removed it cannot be replaced.
Buy Now
What is the answer?
The answer is to eat in balance. Wholesome healthy food in proper amounts.
Provided in the menus are three days of nutritious recipes for breakfast, lunch and dinner. Loaded with vitamins, minerals, gut clearing fiber, protein, awesome carbohydrates and wonderful fats. The menus are moderate in calories, so you might lose a little weight, but that's not the point. You'll have energy and vitality to go through your day, get in your exercise, and play well with others.
How to get started?
To access the menus you must subscribe to be a member. There is just a small fee to gain access. You may sign up for a 3 month subscription for a mere $9. When you click on the link below it will take you to a sign up page, and within a short minute, you're in!
If you are already a member of our Diabetic Friendly or Clean Eating menus you have automatic access to the Tune Up Diet. It's a bonus feature I offer you as a thanks for being a loyal member.
I'm always here if you have any questions or if you want to offer me feedback. And if you like the menus, please tell your friends!