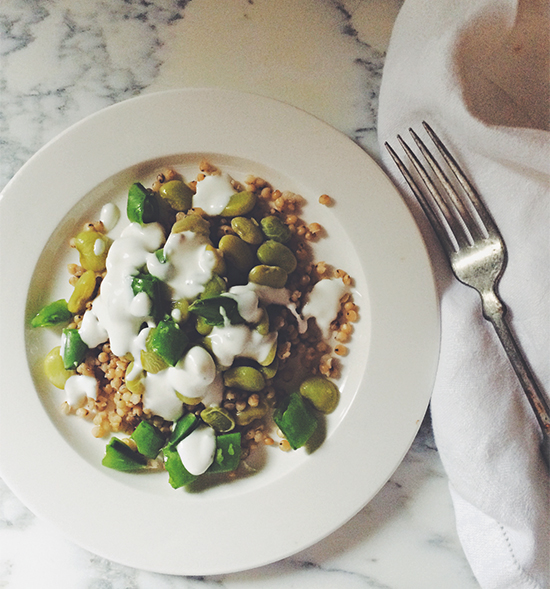 When the heat of the summer is on a cool salad is often at the forefront of our meals. When vegetables are in season it's so easy to get your 5-a-day.
To add some balance I occasionally make a grain based salad like this one. This salad is hearty enough to be a whole meal, providing good protein and fiber. The cream is made with nonfat Greek yogurt and goat cheese which adds another protein boost and some good calcium too. Sorghum has a similar texture to wheat berries, but it's gluten free. I used fresh baby lima beans for some body and fiber and balanced it with some raw crunchy sugar snap peas. I love the sweetness and texture that the peas bring to this dish.
When the days are hot, and the less time spent in the kitchen the better- I make a double batch so we can reach for a healthy snack, lunch or side for some grilled meats all week. I recommend dressing half, then dress the rest a day or three later.
Here is another sorghum recipe that you may also enjoy: http://www.astackofdishes.com/sorghum-salad/
For more recipes like this delivered to you each week- please check out our weekly menu service.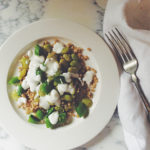 Baby Lima Bean and Sorghum Salad with Goat Cream
2014-07-18 10:33:11
Serves 6
Nutrition Facts
Amount Per Serving
* Percent Daily Values are based on a 2,000 calorie diet. Your Daily Values may be higher or lower depending on your calorie needs.
Ingredients
1 1/2 cup sorghum
1 cup fresh, or frozen, baby lima beans
1 cup sugar snap peas, cut into four pieces
1 t minced garlic
2 oz goat cheese
1/2 cup nonfat plain Greek yogurt
1 tablespoon lemon juice
1/2 teaspoon salt
Instructions
In a medium saucepan place sorghum with 4 1/2 cups water. Bring to a boil, reduce to a simmer and cover. Cook until water is absorbed and the grains are tender. Remove from heat and set aside.
Meanwhile, steam the lima beans and set aside, and chop the snap peas.
In a small bowl combine the goat cheese, yoghurt, garlic, lemon juice and salt. Stir until smooth and set aside. Before dressing the salad taste for balance, adding more salt or lemon if necessary.
When the sorghum is cool, combine all the ingredients and serve.
A Healthy Hunger http://ahealthyhunger.com/